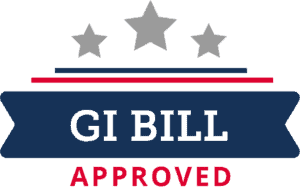 Thank you for your service to our country!
Being a Military spouse is full of challenges. Help is available for those who wish to pursue an education.  The GI BIll helps military spouses to help start you on the path towards a new exciting career in cosmetology.  For additional information, eligibility criteria, instructions on how to apply for the Post 9/11 GI Bill, visit the Department of Veterans Affairs website at www.gibill.va.gov 
The process is pretty simple, after your school visit and completing the online application, all you have to do is pick a start date!  Yes, military veterans or eligible dependents can use the GI Bill to go to Cosmetology school for free. 
Cosmetology is a non-college degree program that the GI Bill will fund. Before becoming a cosmetologist  using the GI Bill, you need to apply for your GI Bill benefits first.
Post-9/11 GI Bill benefits
If you need help paying for school or job training and you've served on active duty after September 10, 2001, find out if you can get education benefits through the Post-9/11 GI Bill.
Transfer your Post-9/11 GI Bill benefits to your spouse and dependents.
If you have unused Post-9/11 GI Bill benefits, find out if you can transfer your benefits to your spouse or dependent children.